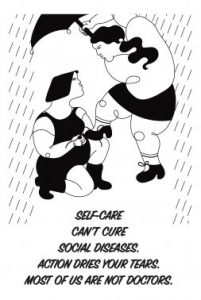 On January 10, Hangar hosted a talk of the Power Makes us Sick collective.
Power Makes Us Sick (PMS) is a creative research project focusing on autonomous healthcare from a feminist perspective. PMS investigates the ways that our mental, physical, and social health are impacted by imbalances in and abuses of power. They understand that mobility, forced or otherwise, is an increasingly common aspect of life in the Anthropocene.
Attendees were invited to take a look at the model of the text in advance online if it was desired, but the discussion did not assume any prior knowledge.