Travelling Time: Aerosol Wormholes
Prelude
A bubble suspended in glass.
Not half a year ago, we were caught in the infinity mirror that is the status quo. Crisis to crisis, encompassing climate change to surveillance capitalism, the trap drew its power from the unprecedented. With warm pride, we felt our experience severed from that of the people who came before as much as we were powerless to imagine a livable future.
The viral load cuts into the thick now.
Then these parasitic moieties, collectively acting as a pandemic, reframed time and dropped us, rather painfully, on a chronology where the exceptionalism of the present could itself be just another illusion of grandeur.
Divining linkages across timelines.
This research writes tales of curious conjunctions that require attunement to the threads that the virus makes graspable, albeit barely. We construct shortcuts between histories and futures, just as the virus jumps species to share molecular memories between beasts that have long since separated.
Florence Nightingale. Dancing mania. Anarcho-primitivism. Shutting-up. Dynamics of fluids. Dynamics of power. Runners and slipstreams. Plague aesthesis. Shrieks of interregnum resonance. A tower and a nest.
Description
Donna Haraway's "thick-now", the thick, chaotic and lumpy present, speaks of the exceptionality of the present build upon our collective and individual experiences, which does not necessarily directly correspond or relate to the past. Without a stable referent from the past, without – let us say – a precedent, we are caught in the extraordinary present. Seemingly, there is no way out, and just as there is no past, there is no future, either. As Frederick Jameson has put it, "in the current conjecture it is easier to imagine the end of the world than the end of capitalism".
The virus, on the other hand, painfully offers a new perspective, the notion of the "deep now". This biological agent, a parasite to the living and to vitality itself, puts us in a condition, in which we can link to our ancestors and maybe even empathize with them. Suddenly, we became experientially connected to the people that lived in the times of the Black Death, to the people living under totalitarian regimes or to the people living amidst the raging war/s. The deep time operates on the biological basis, but the linkage grows into the cultural realm.
We are interested in the disintegration of the thick now and in the fluidity of the memory. We will strive to be attentive to the various ways, in which the messages are resurfacing (for example, in linguistics) and in the ways, memories are being re/created. Furthermore, as the "deep time" concept related to the virus-agent advises, these are not mere questions of the present, past and future, and their interconnections, but also inquiries into the biopolitical sphere. What does it mean to be acting in accordance with to "flatten" the mathematically constructed curve? Speculatively, it seems a little reminiscent of aspiring for the best possible version of the present. If that is the case, there is a truly a great deal of power that mathematical epidemiology is wielding.
To see the working group presentation click here.
Workgroup members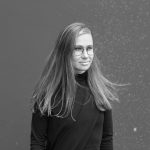 Špela Petrič is a new media artist and former scientific researcher currently based between Ljubljana, SI, in Amsterdam, NL. She received a PhD in Biomedicine at the University of Ljubljana, Slovenia, and an Advanced Master in Arts from LUCA, Brussels, Belgium. Her practice is a multi-species endeavor, a composite of natural sciences, wet media and performance. She envisions artistic experiments that enact strange relationalities to reveal the ontological and epistemological underpinnings of our (bio)technological societies and challenge the scope of the adjacent possible. Much of her recent work has focused on plant life. Her work has been shown at many festivals, exhibitions and educational events around the world (Centre Pompidou (Paris, FR), Abandon Normal Devices (Grisedale Forrest, UK), Gamerz (Aix en Provence, FR), Touch Me Festival (Zagreb, CRO), Playaround (Taipei, TW), Electronica (Linz, AT)). For her work, she also received several awards including the White Aphroid for outstanding artistic achievement, the Bioart and Design Award and an Award of Distinction at Prix Ars Electronica.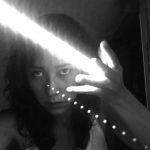 Leslie García is an electronic sound artist and digital media developer from Tijuana. She explores the fusion process between art and technology, using techniques such as virtual tool production, electronic prototyping, audio production, net.art part design and generative visual codes, hardware development, and biological interfaces. Co-founder of the bioart collective Interspecifics (Mexico City) 2013 – present, of the electronic media collective DreamAddictive (Tijuana B.C.) 2003-2010, and member of Astrovandalistas in Mexico City 2011 – Present. Associate researcher at the Nano Laboratory Nucleus of the School of Fine Arts – UFRJ, in Rio de Janeiro. 2012 – 2015, During 2015 – 2016 she worked as an artistic researcher in the media environments department from the Bauhaus University in Weimar Germany. Coordinator of MusicMakers Hacklab #CDMX. During 2019 she was coordinator of the education department of the Center for Digital Culture in Mexico City. She does electronic music production under the alias Microhm, LogarDecay and LatamTapes.
http://lessnullvoid.cc/content/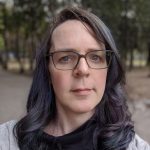 Adriana Knouf (she/her/hers, sie/hir/hirs) is a scholar and artist researching noise, interferences, boundaries, and limits in media technologies. She is currently developing the theory and practice of xenology, or the study, analysis, and development of the xeno (strange, alien, other). As the founding facilitator of the tranxxeno lab, her writings, projects, presentations, and interventions suggest expansive modes of being in the cosmos while simultaneously imagining new queer futurities. Knouf extensively draws upon her transdisciplinary background as an artist, scholar, designer, scientist, and engineer in her work.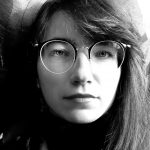 Agnieszka Anna Wołodźko holds PhD in cultural disciplines at Leiden University. In her research, she investigates ways in which art, by using living bodies as its medium, reveals overall cultural, social and political significance of affect in the contemporary understanding of biotechnologically manipulated bodies. Since 2016, she has worked at the AKI, coordinating biolab and teaching philosophy of art, lecturing in BIOMATTERs, an artistic research program that explores how to work with living matters. She was a member of organizing committee of the Sixth Annual Lowlands Deleuze Scholarship Conference "A Grin without a Cat" at the AKI Academy of Art and Design in Enschede in 17-18 May 2017; and an artistic curator and co-organizer of the workshop and symposium on Science-Frictions on 22 November 2017 at the DesignLab University Twente. Since 2017, she has been a lecturer at Leiden University teaching courses on posthumanism and intersection between art, ethics and biotechnology.
https://www.universiteitleiden.nl/en/staffmembers/agnieszka-wolodzko#tab-1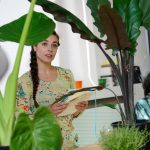 Ingrid Vranken completed a Master of Theatre Studies at the University of Antwerp and Freie Universität Berlin and a Master in the Arts at DAS Graduate school in Amsterdam. From 2012 until 2017 she was the coordinator of artist platform SPIN. She works as an independent dramaturg, curator and artist. She is a member of FoAM, a transdisciplinary laboratory at the interstices of art, science, nature and everyday life. She is also part of Common Wallet; a life-experiment in sharing finances with ten other people, as a way to rethink individual ownership, precarity and affective relations to money. Her work focuses on enabling systemic eco-feminist transition in the arts, through engaging with the knowledge and labor of other-than-humans, and in particular plants. For this she creates collaborative curatorial frameworks and speculative lecture performances.
https://www.atd.ahk.nl/en/graduates/2019/student/ingrid-vranken/