JANUARY 2020
A talk about care and health by Power Make us Sick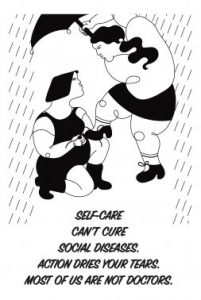 On January 10, Hangar hosted a talk of the Power Makes us Sick collective.
Have you ever had every intention to care for someone close to you and failed inexplicably? Do you want your communities to be more resilient and strong, but always seem to be focusing on the urgent tasks in front of you? The accountability model is a tool being developed by PMS to facilitate communities in taking care of one another's mental, physical, and social health without requiring a clinic or specialized knowledge. Inspired by methods from the Icarus Project, the Group for Other Medicine at the social solidarity clinic of Thessaloniki, various solidarity initiatives, and their own research and work, the tool brings communities together to address illness as it manifests in the individual and how that is connected to the health of the social body. In this gathering, they discussed the impacts of health autonomy together while also outlining some of PMS' theory and approach, and some of the collective's ongoing research and work. They also played around with the accountability model to understand how it works and how it can be used. Attendees were invited to take a look at the model of the text in advance online if it was desired, but the discussion did not assume any prior knowledge.
Power Makes Us Sick (PMS) is a creative research project focusing on autonomous healthcare from a feminist perspective. PMS investigates the ways that our mental, physical, and social health is impacted by imbalances in and abuses of power. They understand that mobility, forced or otherwise, is an increasingly common aspect of life in the anthropocene. PMS is a trans-national collective developing free tools of solidarity, resistance, and sabotage that are informed by a deep concern for planetary well-being.