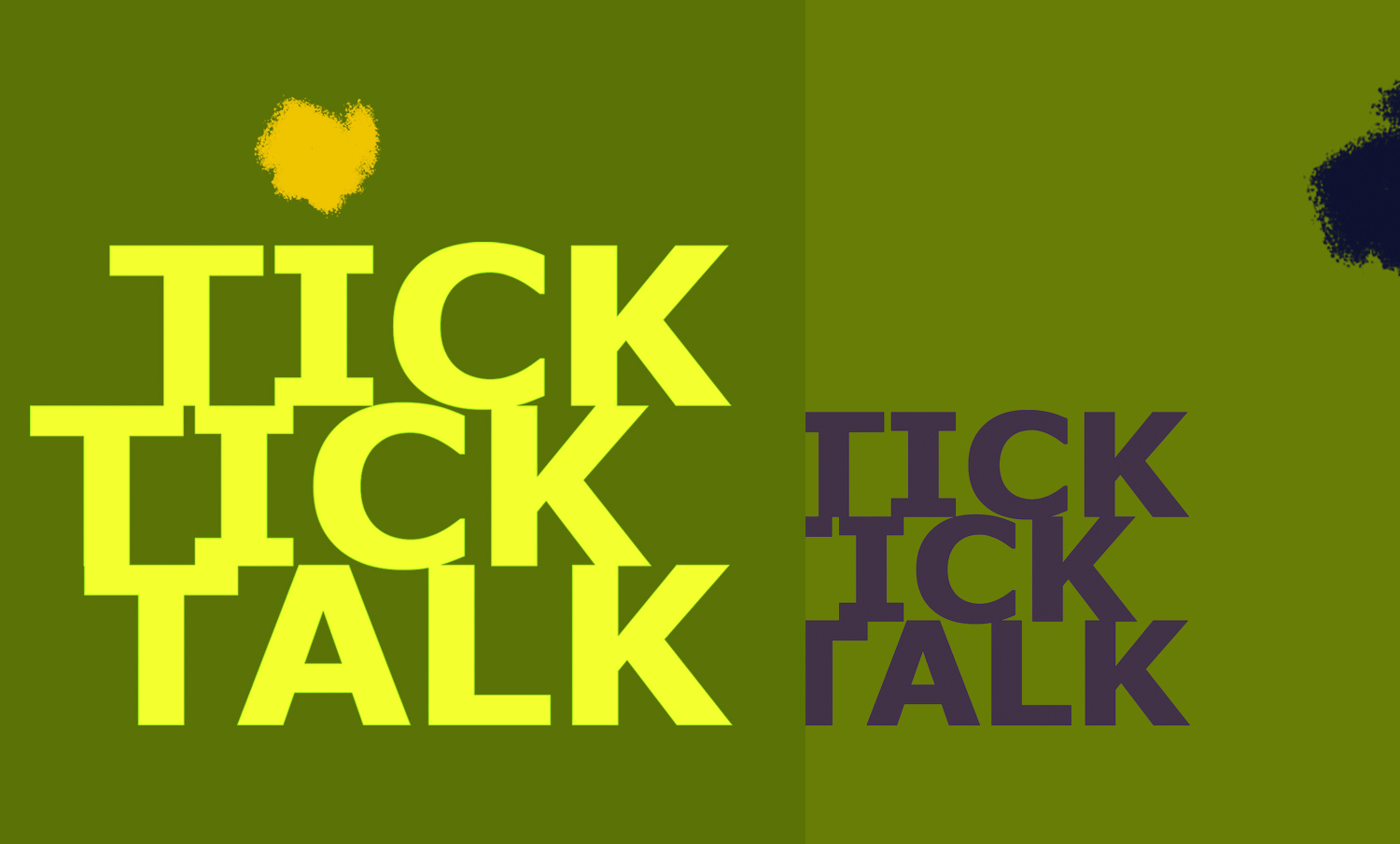 TICK TALKs is a series of conversations by artists Laura Beloff and Kira O'Reilly, Biofriction resident artist, with experts from the biosciences and the humanities concerning ticks, the pathogens they carry and the implications for humans and non-humans within changing environments.
– –
During recent decades there has been a notable increase in tick populations, the expansion of tick-infested areas is attributed to the increased warming of our climate. With this has come a heightened awareness of ticks and tick-borne diseases that can be contracted by humans.
That we need to learn to live with this pervasive proximity to increasing numbers of ticks is evident, and that this will require new attitudes and adaptations from us that will potentially change our behaviours and everyday routines.
From the perspective of the arts, there has been very little activity concerning ticks and the complex systems they operate within as vectors of multiple pathogens. Since 2019 Helsinki based artists Laura Beloff and Kira O'Reilly have been exploring these issues with the Finnish context in their project TICK ACT which was funded by Kone Foundation in 2019.
This short series of conversations functions both as a collection of reflections and as an archive in which Beloff and O'Reilly pause and reflect on some of the most pressing and intriguing research and areas of enquiry they have encountered.
There are multiple points at which these topics and expert positions connect, which the listener can navigate in any order they wish whilst considering the implications and potential meanings of these accumulated perspectives. We feel this is especially apposite as we hold these conversations within early 2021, as we approach the northern hemisphere's spring within the unpredictable conditions of a global pandemic with its attendant concerns of infection, containment and its impact on our mobility.
—
TICK TALKs: Multiple Microbe Phenomena
with Leona Gilbert from Tezted

In TICK TALKs: Multiple Microbe Phenomena, Leona Gilbert, the CEO at Tezted, Jyväskylä, Finland describes the complexity of her work with her research team and collaborators in creating diagnostic test kits that reflect the multi-microbe reality and clinical implications of tick-borne diseases, including the shifting morphology of borrelia and the consequences of this for diagnosis. Advocating a change that moves away from a germ theory that attributes symptoms to one microbial agent, Leona and her colleagues' work considers the complexities of multiple microbial infections, the personalisation of diagnosis and in doing so, patient treatment. The conversation discusses how the coronavirus pandemic and recognition of long-haul COVID-19 sufferers might have unexpected and valuable implications for those with chronic Lyme disease, how patient advocacy affects and informs her outlook and her team's research, and her optimism regarding participating in cultures of global collaboration with which to address global health issues.
Excerpts are from Evaluating polymicrobial immune responses in patients suffering from tick-borne diseases by Kunal Garg, Leena Meriläinen, Ole Franz, Heidi Pirttinen, Marco Quevedo-Diaz, Stephen Croucher & Leona Gilbert, Sci Rep 8, 15932 (2018).
– –
TICK TALKs: Synanthropic Intimacies
with Tuomas Aivelo from the University of Helsinki

In TICK TALKs: Synanthropic Intimacies, Tuomas Aivelo discusses with Beloff and O'Reilly the complexities of the interactions between ticks and their microbiota and host bodies. The conversation moves across geographical scales and temporal ones, following the tick as it travels great distances, and the crucial implications in respect to its microbial communities. The conversation extends to evolutionary biology and the implications of human movement and diet in respect to parasites and contemporary human immune systems.
Excerpts are from Loputtomat Loiset (Endless Parasites) by Tuomas Aivelo, 2018 Published by Like Kustannus Helsinki (Like Publisher). Translated from Finnish to English by Laura Beloff.
—

– –
TICK TALKs: Questing Ticks
with Jani Sormunen from the Biodiversity Unit, University of Turku
In TICK TALKs: Questing Ticks, Beloff and O'Reilly discuss with researcher Jani Sormunen about his research into tick populations – both urban and rural and the pathogens they are host to against the changing environment impacted by climate change. They discuss some of the methods of tick population fieldwork and its history in the Finnish context.

—
TICK TALKs: The Blind and Deaf Highway Woman
with Laura Beloff, Kira O'Reilly and Undine Sellbach
In TICK TALKs: The Blind and Deaf Highway Woman, we hear from Dr Undine Sellbach from the University of Dundee about her research and writing on the biologist Jakob von Uexküll, including his writing on ticks in which he presents the tick as a subject. The shared foray explores the tick in our contemporary world and our heightened awareness of the tick as pathogenic vector active within the complexities of its extended ecologies and environmental instabilities.
—
TICK TALKs: Arachnid – Tick Sensing
by Kira O'Reilly & Antye Greie
In TICK TALKs: Arachnid – Tick Sensing by Kira O'Reilly & Antye Greie is an audio composition made by Kira O'Reilly and Antye Greie.
Arachnid – Tick sensing was inspired by the uncanny sonic textures developed by Antye Greie (AGF) who edited and mastered the TICK TALKs podcasts, her sound work I vs us, Kyla Schuller's essay 'Microbial Self: Sensation and Sympoiesis', and other readings.
Text written and read by Kira O'Reilly
Sound and compositional elements by Antye Greie (AGF)
Best listened to with headphones

To listen to the cloud, click on this link.
– –
Laura Beloff (PhD) is an internationally acclaimed artist and a researcher in the cross-section of art, technology and science. Additionally, to research papers, articles and book chapters, the outcome of the research is in a form of experimental art projects that deal with the merger of the technological and biological matter at large. The research engages with the areas such as human enhancement, biosemiotics, biological matter, artificial life, artificial intelligence, robotics, and information technology in connection to art, humans, the environment and society. Previously she has been a Full Professor at the Art Academy in Oslo 2002-06, a visiting Professor at The University of Applied Arts in Vienna 2009-11. She has been a recipient of a prestigious 5-year artist grant from the Finnish State 2007-11. 2012-2019 she was Associate Professor, Head of Section 2012-2016 and Head of PhD School 2017-2019 at IT-University in Copenhagen. Currently, she is Associate Professor and Head of ViCCA programme at Aalto University, Finland.
Kira O'Reilly is an Irish artist based in Helsinki, her practice, both willfully interdisciplinary and entirely undisciplined stems from a visual art background; it employs methods such as performance, biotechnical practices and writing with which to consider speculative reconfigurations around The Body. She makes, writes, teaches, mentors and collaborates with humans of various types and technologies and non-humans of numerous divergences. Her practice has developed across several contexts from visual art, performance and live art, to interfaces of art, science and technology, and to movement-based work. Since 1998 she has exhibited widely internationally, she has also presented at conferences and symposia on performance and live art, science, art and technology. She has been a visiting lecturer in Europe, Australia and U.S.A in visual art, drama and dance departments. Residencies and fellowships include SymbioticA, School of Biosciences, University of Birmingham the Department of Drama, Queen Mary University of London, and Randall International Chair in sculpture/dimensional studies in the School of Art and Design, Alfred University, New York. She moved to Helsinki to lead a pilot master programme in ecology and contemporary performance at University of the Arts Helsinki 2016-2018 and has continued to be based there developing artistic projects and collaborations. The monograph Kira O'Reilly: Untitled (Bodies) edited by Harriet Curtis and Martin Hargreaves was published in autumn 2017 as part of the Intellect Live series. She co-edited Art As We Don't Know It which was published in 2020.
Audio facilitation by Antye Greie-Ripatti, poemproducer.com
– –
Text: Laura Beloff & Kira O'Reilly
Photos: Laura Beloff